Description
The Best Soybeans great for Natto and soybeans sprouts too! 2022 Crop
– 100% Natural Protein, grown straight from the earth
– Non-GMO (not genetically modified)
– Great for Sprouting and Natto
– You can make it at home
– Fresh! you make it when you need it
– Easy To Store Beans For Ease of Use
The Chambers Family Farm produces the highest quality food soybeans available for your home and family. All of our food soybeans are NON-GMO and grown, tended, harvested and packaged right here on our 5th generation family farm. Quality You Can Trust from our family to yours!
Want to know the best way to sprout?
See our method below: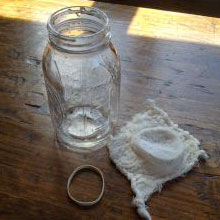 Step 1
Start with a glass mason jar and cheesecloth.  Use a rubber band to hold the cheesecloth onto the opening of the jar.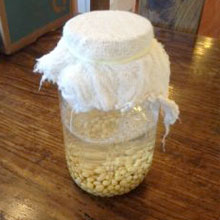 Step 2
Then add about 120 grams of rinsed Laura® Soybeans into the jar.
Then fill the jar with about twice as much water as soybeans.
Let it sit for about 8 to 10 hours just soaking.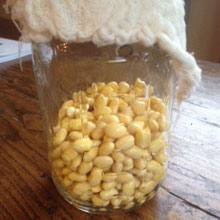 Step 3
After the 8 to 10 hours of soaking, with the cheesecloth still attached pour out the soaking water.
Fill the jar with the soaked beans with water and swish the beans and the water around rinsing the beans in the jar.
Then, still with the cheesecloth on; pour the water out of the jar and leave the Laura® beans in the jar.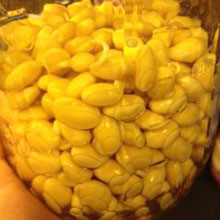 Step 4
Then rinse the Laura beans in the jar, each time leaving the cheesecloth on and pouring the rinse water out.
Do this about every 12 hours, until the Laura® beans start to sprout. It takes about 2 to 3 days for them to start sprouting.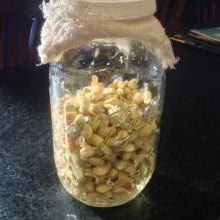 Step 5
By the 4th day, the Laura® beans will be sprouting very well.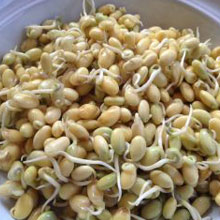 Step 6
When ready, take the cheesecloth off and pour the sprouted Laura® beans out.